The Battle Skipper Ring
What? Moved again? Sorry about that, this should be the last move for the Battle Skipper Ring.
Want to join?
Here is what it takes:
Your need a Battle Skipper page or section of a page.

You need the webring on the main page, webrings page(or something of that type), and or on the Battle Skipper site itself

And you will need to fill out the following form.

And download the logo (if you wish).

All you need is prev., the site home and, next you don't need the image.
Now that isn't to bad is it??
Once your site has been put in the queue, please copy and paste the following HTML Fragment or go to this link: Skipper Fragment. Once you've put it up it should look similar to the one below. Don't forget to change where it says YOUR NAME, YOUR E-MAIL ADDRESS, YOUR ID, and the Image address.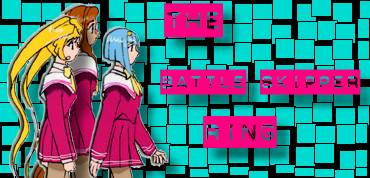 This Battle Skipper site is owned by YOUR NAME.

Wish to Join the Ring?

[ Previous | Next | Skip ]
[ Random | Next 5 | List Sites ]





To change any of your info. go to here.
The ring id is skipper

Battle Skipper and all related items are copyright of their copyright holders.